Acute and Chronic Neck Pain – An Orthopedic Overview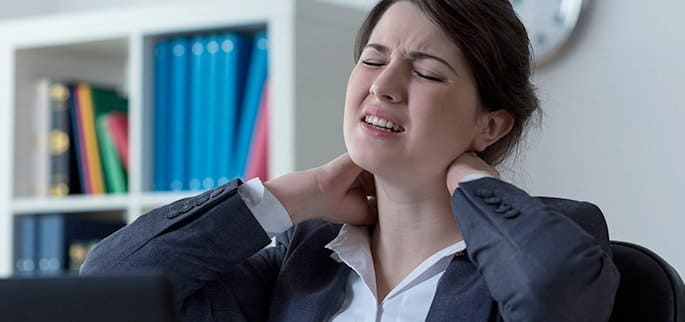 Neck pain is an extremely common problem that the majority of people will deal with at some point during their lifetime. This pain problem can vary in intensity and duration of time it is experienced. Some people may be able to treat their neck problem successfully at home, while other people struggle with it as a chronic and nearly debilitating issue. While many people feel as though their pain appeared suddenly, there are actually many commonly overlooked causes that can include:
Straining or pulling muscles
Poor posture
Inadequate neck support during sleep
Aggravating a past injury
Lack of ergonomic consideration for work spaces
Obvious causes of neck pain are trauma or injury, such as whiplash from an automobile accident, or a sudden impact during sports or physical activities.
Addressing Acute Neck Pain
Most cases of neck pain do not indicate a serious underlying problem. However, a healthcare professional should be seen as soon as possible if the pain has a direct and severe onset following an injury to the head or neck, is accompanied by weakness and numbness in the limbs or if the pain is so severe it restricts daily living activities for more than a few days.
Simple at-home treatments often work to help heal acute pain. Acute pain is characterized by a sudden onset and will most likely heal within a few weeks. Self-care treatments include:
Rest from arduous activities
Stretching and receiving massage
Ice compresses followed by heat to reduce swelling and relax muscles
Over-the-counter pain medications, such as ibuprofen or acetaminophen
Addressing Chronic Neck Pain
Chronic pain of the neck is characterized by discomfort, activity restriction or increase in discomfort for 3 months or longer. People who chronically suffer from this often struggle with the following symptoms:
Muscle tension
Inflexibility and reduced ability to move the neck
Sharp, shooting pain
Sensations of numbness, burning or tingling in the neck, face or radiating down the arms
Causes of this ongoing pain can vary and may be attributed to one or more of the following problems:
Pinched nerve
Herniated disc
Arthritis
Abnormal constriction of the spine, known as stenosis
Neck pain Treatments for chronic pain in the neck area include physical therapy, chiropractic adjustments, therapeutic massage and acupuncture. There are also many home exercises that can be performed to help support and increase the efficacy of chiropractic treatment, such as:
Front-to-back neck stretches
Ear-to-shoulder stretches
Shoulder rolls
Preventing Neck Injuries and Pain
Strengthening neck muscles and preventing situations that may predispose a person to neck injuries is of paramount importance. A chiropractor can offer comprehensive counseling on many healthful habits to form in order to maintain orthopedic health. These include:
Proper lifting techniques
Maintaining proper posture while standing and sitting
Learning about automobile posture and position to reduce neck strain while driving
Maintaining a correct sleeping position through the use of a firm mattress and orthopedic pillows
Engaging in regular neck stretches
Learning to cope with stress
Ergonomic counseling to reduce work-related strains and injuries
Chiropractic care can work to successfully treat the causes of discomfort and disability of the neck without resorting to prescription pain pills, steroidal injections or surgeries. Making an appointment with an experienced and caring chiropractor will provide access to orthopedic rehabilitation information and lifestyle changes that can help to decrease the likelihood of experiencing accidental injuries and subsequent pain. Proper attention to this common malady helps to prevent depression, missed work and prolonged inactivity.