Fall Prevention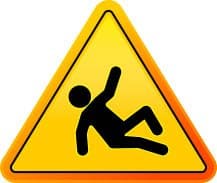 As you get older it becomes more and more important to take care if your body, especially if you're living with a disease. Staying strong and active can help you avoid falls, which generally only lead to minor bruises, but can be far serious. These serious consequences include fractures and broken bones that have been known to cause permanent disability and sometimes death. There are a few simple things you can do to avoid falls such as adding handrails, removing debris from walkways, and making sure your house is well lit.
It is even more important to keep your body strong and active so if you are to fall, your body is more equipped to deal with the pressure.
We cannot stress how important it is to keep the body and the mind active as you continue to get older. Staying active in exercise programs will help you improve your balance and agility through resistance training. The particular program you choose should be catered to your individual needs and concerns so you can achieve your goals. As you get older, it is also important to remember your posture—core exercises and general movement that tests your stability will help you with good posture and core strength.
Even if you have your health, it's never too early to start being active. The more you move, the less chance you have of experiencing complications in the future like osteoporosis. We have Exercise Physiologists and Physiotherapists specially trained to help you develop your perfect regimen based on your abilities, physical condition and goals.
Recommendations:
| | | | |
| --- | --- | --- | --- |
| | | | |
| Home Based | Pilates | Hydrotherapy | Sessions |
| Allows for beginner, intermediate, advanced, and all levels of ability. | 1 on 1 instruction with machine or small groups on the mat. | Very helpful in chronic pain or limited range of movement. | May be combinations of all of the above as well as walking programs, group fitness, and fall prevention. |
Call or stop by New York Dynamic Neuromuscular Rehabilitation today and we'll help you stay strong, mobile and independent