Our Patient
---
Our patient was a 40-year-old female with bilateral knee hydrarthrosis (fluid accumulation) and shoulder impingement, who was suspected to have arthritis. Ultrasound imaging revealed no significant structural abnormalities in the knees. However, fluid accumulation was evident, particularly in the left knee.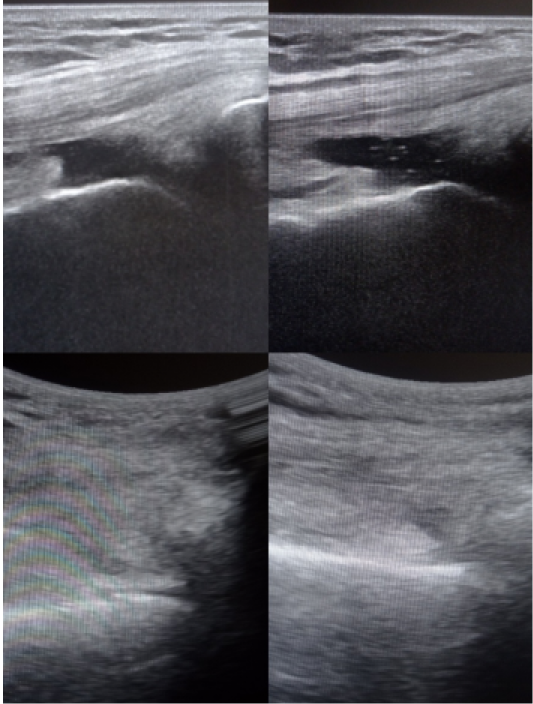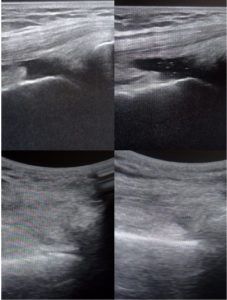 Accumulation of fluid detected in both knees.
In addition to excess knee fluid, ultrasound revealed trigger points in the right sacroiliac joint (SIJ) and multifidus muscles at L4-5, L2-4, and L, and in the left soleus muscle and medial quadriceps. The patient also had a history of thyroiditis bronchiectatic disease (inflamed thyroid and thickened bronchial walls), which was being treated with a steroid inhalant.
Our Treatment Plan
---
Our treatment plan included the use of ultrasound-guided dry needling to eliminate trigger points, which were contributing to mechanical overload on the joints and surrounding tissues, and causing postural misalignment. Postural correction techniques were used to restore functional alignment.
Our Results
---
Our treatment had the effect of immediately reducing pain and eliminating fluid in both knees, while enhancing posture and completely resolving the patient's shoulder impingement. The ability to precisely detect and eliminate trigger points using ultrasound guidance was key to resolving the patient's mechanical abnormalities that were the source of pain and inflammation.
Our Conclusion
---
Our treatment approach supports the use of ultrasound-guided dry needing to manage joint fluid accumulation, eliminate pain, resolve mechanical overload, improve posture and restore functional mobility in patients with myofascial trigger points.