Joint Hypermobility Causes
Loose or elongated ligaments within the joint capsule are the primary cause of hypermobile joints. The condition is largely hereditary, resulting from longer than normal ligaments, or from overly elastic connective tissue. Weak or overstretched muscles and connective tissue can contribute to hypermobility. In addition, some people inherit a rare genetic disorder known as Ehlers-Danlos syndrome (EDS). EDS affects connective tissues in the skin, joints, and blood vessel walls. EDS symptoms include overly flexible joints that easily dislocate, translucent elastic skin that bruises easily, and dilation or even rupture of major blood vessels.
Joints that are most prone to hypermobility include:
ankles

knees

shoulders

wrists

fingers

elbows
While hypermobility imposes the greatest risk to joints of the extremities, it can also affect the head, neck, trunk and low back. Activities that demand extreme joint range of motion like dance, gymnastics and yoga can increase joint hypermobility.

Joint hypermobility syndrome symptoms
Many hypermobile people never report health problems associated with lax joints, while other experience symptoms ranging from nagging to severe.
Hypermobility symptoms include:
Stiff painful joints and muscles

Joints that click or pop

Frequent dislocated joints

Fatigue

Recurrent sprains or other injuries

Digestive issues

Thin stretchy skin
When occurring in conjunction with hypermobility, these symptoms indicate JHS.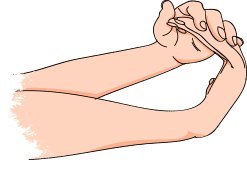 Ehlers-Danlos Syndromes (EDS)
One unique subset of JHS are Ehlers-Danlos Syndromes, a group of connective tissue disorders characterized by hypermobile joints, hyperelastic skin and fragile tissues. To date, 13 subcategories of Ehlers-Danlos Syndrome have been identified, each with its own peculiar characteristics. The syndromes are thought to be hereditary, and many symptoms overlap from one category to the next.
Most symptoms of Ehlers-Danlos Syndromes affect the joints and skin, which are often fragile and painful:
Joints: Joints are loose and unstable, and often painful and prone to dislocation.

Skin: Skin is velvety-soft and tears and bruises easily; wounds heal slowly.

Less common: Fragile arteries, intestines and uterus; scoliosis, poor muscle tone, mitral valve prolapse and gum disease.
Diagnosis of JHS
In addition to a health history and clinical exam, your therapist may use a goniometer to measure your joint angles, and ask you a number of questions, including:
Can you bend forward and place your palms flat on the floor without bending your knees?

Does your thumb bend back far enough to touch your arm?

Can you perform a full split

Are you prone to dislocation of shoulders, elbows or knees?

Have you been called "double jointed?"
Your therapist may also use diagnostic ultrasound to view your joints and muscles in motion. High resolution diagnostic ultrasonography is especially advantageous for patients with JHS, and reveals much more than can be obtained from MRI imaging. Ultrasound imaging lets us view the joints in real time, with the patient in motion, to get a full picture of the muscles, bones, nerves and ligaments.
In many cases, patients with EDS and JHS have subclinical nerve compressions that cause pain and impair movement. Dr. Kalika's expertise in diagnostic ultrasound enables him to detect compressed nerves, which can then be therapeutically treated.