MSK (musculoskeletal) High frequency diagnostic ultrasonography
Here at New York Dynamic Neuromuscular Rehabilitation, we offer a broad range of services to address the needs of our patients. Whether they have suffered a sports injury, a random injury while engaged in activity, a back injury, orthopedic conditions, TMJ, brain injuries, or neurological impairment. We also treat hip injuries or pain and restriction of movement in the hip. Pain and difficulty of movement in the hip is a common problem for patients of all ages. It is a musculoskeletal issue that is generally caused by a combination of problems. If you are suffering from hip problems, the primary goal is to get to the root of the problem and devise a treatment plan. The earlier the diagnosis the better in order to restore functioning and avoid further deterioration. One of the most common tools used for evaluation is through ultrasound imaging. Through the combined efforts of your orthopedist and our highly trained professionals, we will use every resource at our disposal to assist you in resolving any issues involving your hips.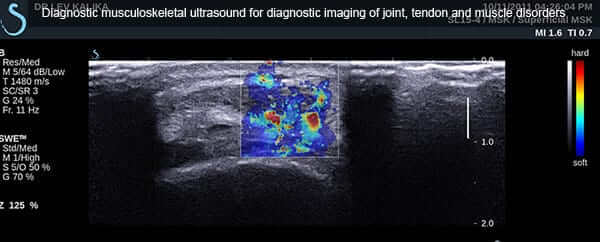 Musculoskeletal ultrasound technology is used at New York Dynamic Neuromuscular Rehabilitation to provide a more comprehensive picture of your hip joint. We use a variety of methods to evaluate our patients, including physical examination and gait analysis to understand the functioning of the hip, range of motion, and any irregularities that could be causing pain or affect mobility. However, ultrasound hip imagery is extremely important as well in the diagnostic process in order to design an effective treatment plan. Our staff is committed to using every possible resource in order to perform a thorough evaluation, form a precise diagnosis, and choose the best possible path in addressing your needs. When at all possible, it is essential to avoid costly or painful procedures when helping patients on the path to recovery. We use the most up to date advances in modern technology as well. The ultrasound is one of our most useful diagnostic tools.
The ultrasound is highly effective for a broad range of purposes. Commonly referred to as sonography, ultrasound imaging is a highly effective tool for medical diagnostics. Through the use of sound waves at a high frequency, it is possible to obtain images of internal organs and parts of the body without the need for invasive procedures, providing doctors and therapists with a better picture of what is going on inside the patient. The ultrasound is used for expecting mothers, to examine the ovaries, uterus, pancreas, spleen, thyroid, kidneys, gall bladder, liver, bladder, and even the heart. In addition to identifying abnormalities within vital organs as well as blood flow, sonography is the simplest diagnostic resource that is used in order to pinpoint the root of swelling and chronic pain. This is especially beneficial in identifying the source of problems involving the hip. Patients who come to us at New York Dynamic Neuromuscular Rehabilitation are looking for answers. When problems involving the hip are involved, pain is the primary symptom that drives patients to seek our assistance. However, difficulties with functioning are major issues as well. When the hip loses flexibility, stability, or mobility, it has a major impact on a person's quality of life. Through the use of ultrasound imaging, we can recognize the source of the problems you are experiencing with your hip, providing us with one more piece of the puzzle.
One of the greatest advantages of sonography is the fact that it provides real time images in a variety of ways, whether they are produced in 2D, 3D or 4D format. 4D format has the greatest implications when it concerns diagnosis of hip conditions, providing 3D imaging that is in motion. If patients are able to be engaged in physical activity at the time that ultrasound images are taken, it allows the staff at New York Dynamic Neuromuscular Rehabilitation to have a better understanding and a more detailed picture of what exactly is occurring within the hip joint. The goal is to find answers and form an effective course of treatment. Ultrasound imaging provides instant results, avoiding frustrating delays, providing accurate readings. There are no indications that ultrasound technology is harmful in any way to patients, but its benefits are far-reaching, especially in the field of physical therapy and rehabilitation.
At New York Dynamic Neuromuscular Rehabilitation, our primary goal is to use every avenue that is available to correctly diagnose and then treat your condition. Once we can properly diagnose the cause of your pain or lack of functioning, regardless of what part of your neuromuscular system is involved, we can go on to design an effective treatment plan. Your course of treatment may involve a combination of treatment approaches. When you come to us for assistance, you can expect us to exhaust every option. Using ultrasound is only one resource at our disposal.
Musculoskeletal ultrasound offers an excellent complimentary imaging technique to traditional methods such as Magnetic Resonance Imaging (MRI) or Computed Tomography (CT) studies. The reasons are simple; ultrasound is the most cost effective imaging procedure available other than plain x-ray. In addition, musculoskeletal ultrasound utilizes dynamic imaging techniques — allowing the sonographer to evaluate function through range of motion planes. Most importantly, ultrasound is non-painful, non-invasive, and allows the patient to watch while his/her anatomic structures are being imaged on a video monitor. Unlike other imaging modalities, claustrophobia is not a concern for patients who undergo a sonogram. Likewise, there are no contraindications (like allergic reactions or fasting restrictions) associated with a sonographic analysis.
Ultrasound is used for precision of intrajoint injections or for precise localization of structure being treated by Extracorporeal Shock Wave.
A side-to-side comparison analysis is performed and imaging is accomplished by placing a transducer over the area to be visualized. Pulses are generated by the transducer and sent into the patient. Echoes are produced at organ boundaries and within tissues, and are returned to the transducer where they get detected and imaged on a screen.
Like an electrodiagnostic study, the doctor utilizes songraphic analysis as an extension of the clinical exam. Therefore, each sonographic consultation consists of a complete history and physical exam, medical record review, and the sonographic evaluation. Although ultrasound is considered to be a technically difficult study, the doctors knowledge of musculoskeletal anatomy and biomechanics makes this an excellent imaging resource for patients.
The entire evaluation takes approximately 15 minutes to complete and patients are encouraged to wear comfortable, loose fitting clothing. We recommend shorts for lower extremity studies, and tank tops for upper extremity studies.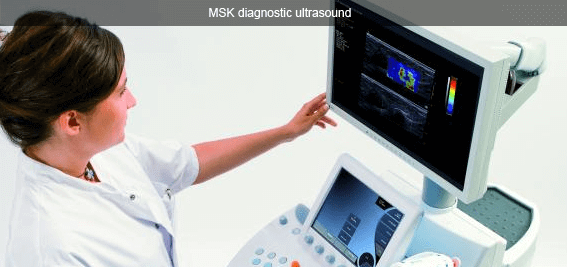 Some Examples Of Common Upper Extremity Pathology Appropriate For Sonographic Analysis Include:
Tendinitis/Tendonopathy
Bursitis
Epicondylitis
Rotator Cuff Tear
Instability/Impingement
Cumulative Trauma Disorder
Carpal Tunnel Syndrome
TFCC Tear
Ganglion Cyst