Posture is an ability to maintain upright symmetrical position of the spine (head, neck, pelvis and limbs) during static positions such as sitting and standing as well as during movement. In other words, posture is an actively stabilized definite orientation of the body and its segments in space in relation to each other. Lets note that the orientation is space refers to steady base of support be it on the feet, pelvis or knees.
To put it in more precise medical language, posture is an ability to maintain balanced activity of variety of muscular groups and in antigravitational mode, so that grounding and verticalization is achieved simultaneously. Antigravitational mode can also be compared with buoyancy. The effect of buoyancy is achieved by shifting vector of muscle force up the spine. This type of muscle activity is called eccentric contraction.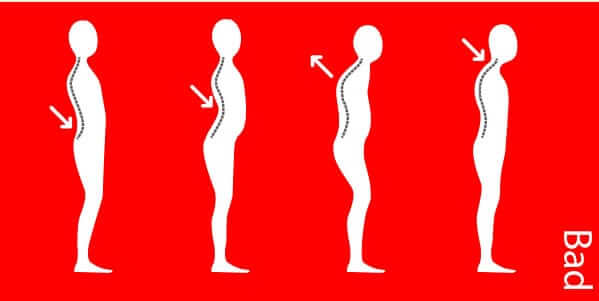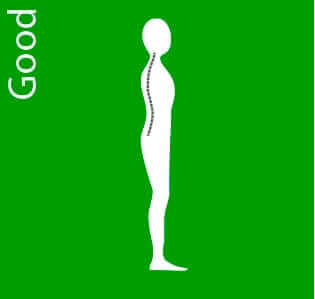 Grounding is an ability to establish and maintain position from base of support such as feet while standing or sit bones while seating.
Verticalization is an ability to keep the spine upright and as tall as it possible.
How does body achieve simultaneous grounding and verticalization.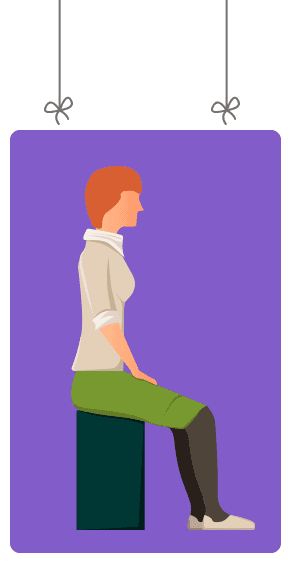 For example:
in sitting, if the alignment of the head, rib cage and pelvis is optimal the muscles of the pelvic floor can relax and body weight falls symmetrically onto the sit bones.
When the deep spinal stabilizing system (core) works optimally, it allows reversal of muscle contraction in opposite directions while relaxing big superficial muscles in order to establish base of support.
This maximum body weight distribution into the supporting surface (such as floor or a chair, etc..) allows the brain to activate small intrinsic muscles of the pelvis, spine, diaphragm and the abdomen to lengthen up. This lengthening up is called eccentric contraction. This eccentric contraction is not possible without all described actions. The ability of slow twitch muscle fibers (aka postural muscles) to maintain the achieved upright position is necessary to maintain upright posture. The endurance of these type of muscle fibers is what constitutes sustainability of proper physiological posture. In other words, these slow twitch muscle fibers are responsible for maintaining posture once grounding and verticalization is achieved.
Posture and Body Awareness
Body awareness is the ability to sense position of the body in space (gravitational field), while maintaining static position or during movement. Body awareness is necessary for the brain to control movement. It provides a reference point of where the movement begins, where it is in a certain moment and where it ends.
Magnus said: "Posture follows movement like a shadow".
Good movement is not possible without good posture. One of the biggest pathways of the brain is to realize where the body is in a certain moment through small receptors located in these postural slow twitch type muscles. These small receptors are able to sense orientation of the body in relation to gravitational field. These receptors signal the brain of the status of each muscle and collectively the body (relation of all segments) by reporting change in length of muscle fibers.

Posture and mind over matter
People live in an world where its matter of mind versus mind over matter.
Meaning a person is not in-tune or aware what its own body is doing or how it is functioning. When a person is unaware of it muscle functions there tends to be conditions of strains and pains due to not realizing how you are using your body. For example, a person that is repeatedly using a computer will be immersed in their work and lack the ability to control ones movements and actions, resulting in strains and poor posture. The problem actually arises from an early age such as school children. Where they will fill their bags with heavy books and carry them on one shoulder resulting in poor posture and strains of the neck, shoulder, elbow etc… A persons mind is all over the place meaning they do not take proper time to focus and the brain to muscle functions become manipulated, that manipulation causes lots of harm to a person's movement, posture and overall function. Even doing everyday activities without being aware of how they are performed is harmful to one's body as well. When a person is unfocused or not paying attention we are unaware of our surroundings. Most time we realize to late that we are abusing our movements and posture, and that realization comes with pain and to correct it will take time determination awareness and effort.
When we slouch while sitting and try to lift ourselves up with our arms by pushing out from a chair or weight shifting from one leg to the other, the fast twitch muscles are being tricked into utilizing the role of the slow twitch muscles. The sudden feeling of being tired shows how in-accordingly we utilize our fatigue muscles for certain functions. The slow twitch muscles that are responsible for supporting us in an upright position are weak and less powerful due to the incorrect muscles being used and activated. As previously stated one of the functions of the slow twitch muscles is to coordinate with the central nervous system by indicating where out gravitational field is and where our location is per say.
But since the muscles are being confused and they are in a less prominent state they are confused and distorted. Gravity is a stronger fighter then our bodies are when are not focused and unaware of our functions. Since the fast and slow twitch muscles are confused that results in some muscles putting in too much work and others not enough. Remember this phrase, if you don't use it you loose it, which is ultimately what's happening. In conclusion, our bodies as a whole are no longer balanced and have no even distribution of muscles. This results in over use, pain, pressure and strains not only on the muscles but the joints, ligaments and tissues as well.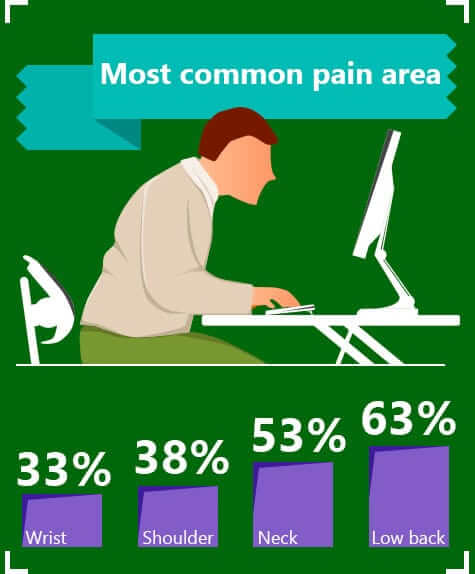 So why people develop poor posture
Statistically only thirty percent of humans are born with perfect posture. The foundation of posture is developed during first year of life.
This process is called ontogenesis. In this process the motor programs of the brain establish all the muscular chains necessary for the child to verticalize, stand up and walk.
During this process in the childhood as well as during early adulthood many things can interfere and disrupt the motor programs responsible for posture. Excessive and improper seating, improper breathing stereotypes, certain sporting activity, gym activities, trauma, stress and etc.