ESWT VS RSW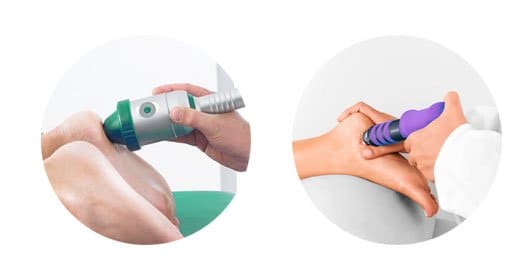 When compared, Extracorporeal shockwave therapy (ESWT) and radial shockwave therapy (RSWT) have many differences.
How they are used is the main difference, the type of energy along with it's density as well as the depths into the muscle tissue.
The end result of the stimulation and the mechanism of these two therapies are similar.
ESWT wave speeds are much faster than RSWT wave speeds and ESWT waves break the sound barrier which is different than RSWT which doesn't have a shock wave at all.
The wave forms are different too, ESWT waves are not long and not less intense like RSWT.
The ESWT is more of an acoustic wave with a very high pressured amplitude with short intense pulses while the RSWT is thought to be more of a pressure wave.
RSWT is put right onto the skin itself and waves of pressure are created along skin surfaces.
With ESWT shockwaves and force created in these machines is transferred to your skin and tissues without effect, and is focused at a specific desired depth.
RSWT is different in that it is applied to your skin and pressure waves are generated by repeatedly bouncing upon your skin with pressure wave devices, creating pressure waves through your body.
When using radial shockwaves, waves disperses through to tissue beneath.
ESWT is a better choice of treatment when dealing with deep tissue injuries. RSWT is most effective when treating superficial injuries.
You may be required to undergo anesthesia when undergoing Extracorporeal shockwave therapy.