Chronic Overuse / Regenerative Medicine
Effective regenerative treatment for runners is one of the key directions in modern medicine science. Physical therapists today are developing new and modernizing the known ones ways of regenerative medicine. Among others, Extracorporeal Shockwave Therapy (ESWT) and Extracorporeal Pulse Activation Technology (EPAT) are the most approved and effective non-invasive methods for runners regenerative therapy.
ESWT/EPAT provides different voltage waves, which creates pressure in the stimulated area and accelerates the metabolism. ESWT and EPAT enhances blood supply, which regenerates and recovers the area of injury. These methods have received FDA approval and are successfully practicing at Dynamic Neuromuscular Rehabilitation clinic in NYC since 2007.
Chronic inflammations in professional runners occur previously inflamed areas and can make an influence tory compounds could be a treatment of choice in healing the inflamed area.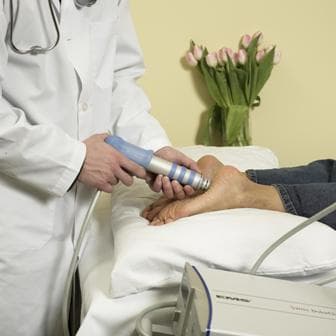 At DNR we have experience in using ESWT and EPAT for treating the following runners' conditions:
Achilles tendonitis
Achillodynia
Bone non-unions
Bursitis (inflammation of a bursa)
Hallux limitus
Heel spurs
Painful trigger points
Patellar tendonitis
Plantar fasciitis
Rotator cuff tendonitis
Stress fractures
Stress reactions
Tibialis anterior syndrome
Various chronic enthesiopathies
Various sports injuries