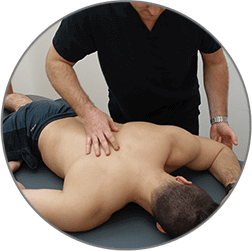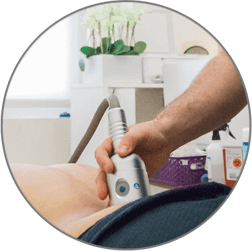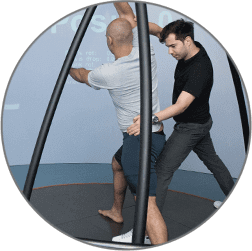 Pinched Nerve Doctor at NYDNRehab
The nerve pain specialists at NYDNRehab take a holistic approach to treating radiculopathy. We go beyond merely treating your symptoms, pulling out all the stops to get to the source of your pain and eliminate it. Using cutting-edge technology and innovative treatment methods, we correct misalignmentsm imbalances and motor deficiencies to resolve radiculopathy at its source.
Treatment approaches for radiculopathy at NYDNRehab include:
Dynamic Neuromuscular Stabilization (DNS):
This safe and effective treatment method for back, neck, and shoulder pain restores dysfunction of the locomotor system to enable nerves to move freely within your body.
Extracorporeal shockwave therapy (ESWT):
By sending shock waves to the site of injury, ESWT helps the body heal itself, accelerating cell regeneration while relieving inflammation.
Computer Assisted Rehabilitation Environment (C.A.R.E.N):
This fully immersive virtual reality environment can help retrain your body to move more efficiently, relieving nerve pressure and restoring optimal functional movement.
Chiropractic manipulation:
Manipulating the spine can relieve nerve pressure and help restore correct spinal alignment.
Posture education and retraining:
Learning to properly align your body during sitting, standing and walking can help to relieve radiculopathy and prevent its return.
Walking and running gait retraining:
Mechanical deficiencies in the way you walk and run often contribute to radiculopathy. They can be corrected to relieve pain and prevent recurring incidents.
Exercises and stretches to restore muscle balance:
Tight, lax or weak muscles can contribute to radiculopathy. Exercise can restore muscle tone to relieve pressure on nerve roots. You do not have to live with pinched nerve pain. The nerve pain specialists at NYDNRehab are dedicated to identifying the source of your pain and eliminating it for good.