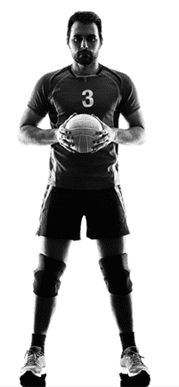 Myositis Ossificans (MO) is a condition that occurs following a direct traumatic injury that results in a contusion, or bruise. Such injuries are common in contact sports like rugby or football, where an athlete takes a direct hit from an opponent. However, anyone can sustain a serious contusion from a fall, or from running into an obstacle.

Not all contusions lead to MO, and the condition is more likely to arise from a contusion to the large muscles of the thigh or upper arm. In some instances, MO arises as a result of repetitive minor trauma. For example, it sometimes occurs on the inner thighs of equestrians. While it is more common in the tissue of large muscles, MO sometimes occurs in fat, tendons, ligaments, and fascia.
Initially, an injury leading to MO presents as a painful bruise, where a pool of blood forms a hematoma, or blood clot, over the injury. Unlike a normal contusion, pain and inflammation are not responsive to traditional soft tissue treatments like NSAIDs, icing, and immobilization of the muscle. MO is most commonly seen in teens and young adults, although older adults can develop MO after an injury or surgery. The condition is rare in children.
MO arises when the site of injury forms a benign lesion containing active fibroblasts and osteoblasts that begin to form bone within the soft tissue. Early damage is followed by the swelling of soft tissues that grows over the course of several weeks into a painful solid mass. MO is often not discovered until several weeks after the initial injury occurs, when pain, loss of function and reduced range of motion persist.
What causes myositis ossificans is poorly understood. Many believe it is due to a malfunction in repair mechanisms that cause abnormal fibroblasts to become osteogenic cells.
When your injury does not begin to heal after one to two weeks of traditional soft tissue treatment of NSAIDs, rest, ice, and elevation, you should consider the possibility of MO. During the clinical exam, your health care provider will ask for details about when and how you became injured, and what treatment measures were taken, and they will examine and palpate the injured area.