When you think about it, your feet probably work harder from day to day than any other part of your body, other than your brain. Yet most people tend to take their feet for granted, neglecting and abusing them with deforming or unsupportive footwear, excessive standing and walking on unforgiving surfaces, and failing to treat them when they ache. However, when foot pain progresses to foot injury, the pain cannot be ignored.
Foot injuries often share similar risk factors, making it difficult to differentiate one type of foot pain from another. Repetitive stress from sports or exercise, obesity, tight calf muscles, flat feet and high arches can all contribute to foot pain and injury, as can many other factors. Understanding the various types of foot pain can help you determine the best course of treatment so you can speed up recovery.
Plantar fasciitis is a common type of foot injury involving the plantar fascia, the long thin ligament that runs beneath your skin on the bottom of your foot, connecting your heel to your toes, and supporting the arch of your foot. The plantar fascia plays a key role in walking, running and jumping, acting like a rubber band to transfer force from your arch to the ground.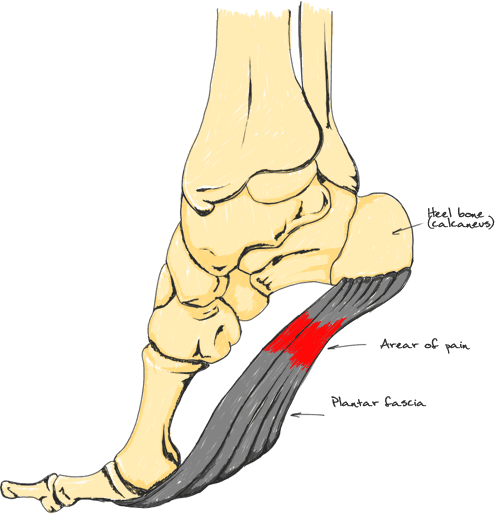 The plantar fascia becomes injured when micro tears to the fascia from repetitive use become inflamed. Continually subjecting the plantar fascia to force loads makes the condition worse. Since most people cannot get through the day without using their feet, plantar fasciitis can become a downward spiral that is difficult to reverse.
Symptoms of plantar fasciitis include pain at the bottom of the heel or mid-foot that gradually becomes worse, pain and stiffness upon rising in the morning, and pain after prolonged activity.
While plantar fasciitis is the most common type of chronic foot injury, other conditions may mimic the symptoms of plantar fasciitis, and are therefore often misdiagnosed.
Some of the most common types of foot pain that are not plantar fasciitis include:
Plantar fascia rupture: While micro-tears associated with plantar fasciitis can progress to a full-blown rupture, a rupture can also occur as a result of trauma. The symptoms may be similar to plantar fasciitis, but much more painful.
Heel spur: A heel spur is a bony outgrowth on the calcaneus, or heel bone. While many people have them and experience no pain, a heel spur can intrude on the plantar fascia, causing pain and stiffness similar to plantar fasciitis.
Thinning heel pads: As we age, we lose subcutaneous fat, the layer of fat directly beneath the skin. When we lose fat in our heels, we also lose cushioning and shock absorption, leading to pain after prolonged standing or walking.
Stress fracture: A stress fracture is like a crack in the bone of your heel, metatarsals or toes that can mimic plantar fasciitis. It may be caused by some of the same actions as plantar fasciitis, making it difficult to differentiate.
Tibial nerve entrapment: The tibial nerve runs down the back of your leg to your heel. It can become pinched or entrapped near your heel, causing pain and stiffness that is similar to plantar fasciitis.
Bursitis: Bursae are sac-like structures found throughout your body that prevent bony structures from rubbing on soft tissue. They can become inflamed from overuse of a body part. An inflamed bursa on the bottom of your foot can mimic plantar fasciitis.
Clearly there are many types of foot injury that can mimic plantar fasciitis, and the condition is often misdiagnosed. Despite similarities in risks and symptoms, treatment varies, depending on the specific condition. Accurate diagnosis is critical in order to treat and reverse the source of pain.

The foot pain specialists at NYDNRehab are experts at differential diagnosis. Using cutting edge technologies coupled with professional expertise, we quickly get to the source of your pain so we can design an appropriate treatment protocol. Ignoring your foot pain can make it worse, prolonging your pain and discomfort and interfering with your quality of life. Contact NYDNRehab today, and let us help you put your feet on the road to recovery.