Gait Analysis and Low Back Pain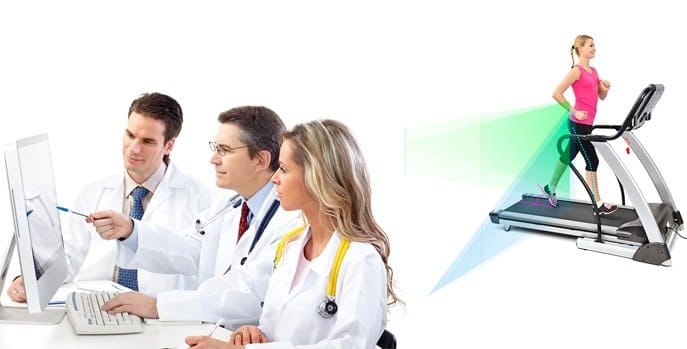 The average person takes between five and ten thousand steps per day, therefore people who suffer from low back pain can find daily life extremely difficult. Furthermore, anyone who has a problem with their feet or legs can develop a repetitive strain injury (RSI) due to taking so many steps as part of daily life. Many medical researchers have theorized that RSIs develop as result of all this walking, while other factors include stress from the lower back that occurs during walking. Over time, people compensate for back discomfort by changing how they walk, which, over time, begins to severely weaken and atrophy joints and muscles, resulting in inflammation of the tissues, pain, arthritis, and a greater risk of causing further injuries.
To further investigate the connection between low back pain and walking, a series of gait analysis trials were conducted. Every time a person takes a step, three different but correlating events occur. First, the side of the trunk bends as the person begins to take a test, secondly, the iliopsoas muscles in the abdomen tighten, and third, the lower back flexes as the person finishes taking a step. While some research has focused on each of these events in isolation, a thorough gait analysis looks at the events as one continuous motion. After all, the combined areas of the hip, thigh, lower leg, and foot comprise about 15% of the average person's total weight, so understanding how this weight is transferred during walking is critical to preventing RSI and other injuries.
Furthermore, common daily activities such as climbing up or descending stairs also puts unique stresses on the feet and lower legs. The act of descending or ascending stairs requires specific muscle groups to contract and then relax, and for people already suffering foot disorders, these muscles may be taxed beyond their normal limit. As people descend stairs, the foot muscles are elongated as the foot stretches for the next stair below, adding special stresses on the muscles in the upper leg, torso, and lower back.
The study of podiatric biomechanics views gait analysis holistically, with the understanding that any abnormalities can severely disrupt the kinetic chain involved in taking a step. Gait abnormalities can lead to musculoskeletal problems, including back discomfort and changes in posture. Many scientists believe that the key to resolving gait dysfunction is to focus on the way the foot moves. Indeed, experts now believe that problems with the foot can lead to back pain, as well as discomfort in the hips and knees. When a person's posture is altered, this changes how they place their foot when walking, and which muscles have to stretch and flex unnaturally in order to compensate for these changes and maintain balance.
It is believed that people with chronic discomfort in the lower back that becomes worse during or after a period of standing or walking are probably suffering primarily due to a problem with their feet. If problems with the foot and gait are diagnosed, even if no pain in the feet is felt, it is possible to treat these problems and thus alleviate symptoms and signs of low back pain, as well as preventing further damage.
It is believed that more than 60 billion dollars are spent every year in the United States alone to treat chronic discomfort in the back. What has astounded professionals is that as much as three quarters of all surgeries designed to eliminate chronic back discomfort are not successful, to the point where a specific code (used for insurance purposes) was created to denominate a failed back surgery. Even worse, many of the patients who reported that their back surgeries were a success later began to develop new pain symptoms and other problems less than a year afterwards.
It isn't known exactly why this low level of success in treating back discomfort continues to be part and parcel of standard medical treatments. It is hypothesized that many surgeons who operate on backs may be unaware that problems with the feet and lower legs can contribute to back discomfort. It is also believed that individual symptoms are treated in isolation, without taking into account the holistic approach of understanding how people walk affects the muscles and joints in their back.
Exciting new research into understanding how people walk now promises to have great success in simultaneously treating back discomfort. Indeed, the new theories emerging point to a direct link between gait dysfunction and back pain, whereas current medical understanding is that people with back pain are suffering due to either a congenital disorder or by suffering from an injury such as falling down. Instead, it is now being proven that chronic problems with walking lead to repetitive stress on the lower back, eventually resulting in pain and related problems in the lumbar region.