Childbearing is a natural biological process that the female anatomy is uniquely designed to handle, but it places an enormous amount of stress on the pelvic structures. While a few aches and pains are inevitable during pregnancy, intense pelvic pain can indicate excessive strain on your joints and connective tissues. Prenatal physical therapy can help you manage prenatal pelvic girdle pain (PPGP), and help prepare your body for a successful delivery.
Growing another human being is demanding work, and the mother's body goes through multiple adaptations as the baby develops. Depending on your unique anatomy, you may have difficulty drawing a complete breath as your diaphragm has less room to contract. Women with a shorter trunk often feel as though they are carrying the baby in their rib cage. With the baby taking up so much room, you may experience digestive problems and constipation.
As the baby grows and the volume of amniotic fluid increases, you gain weight in your breasts and pelvic region, and your center of gravity shifts upward, making your body less stable and your body weight harder to balance. Pressure on your pelvic muscles makes them stretch, reducing their ability to stabilize your core, and adding stress to your pelvic joints.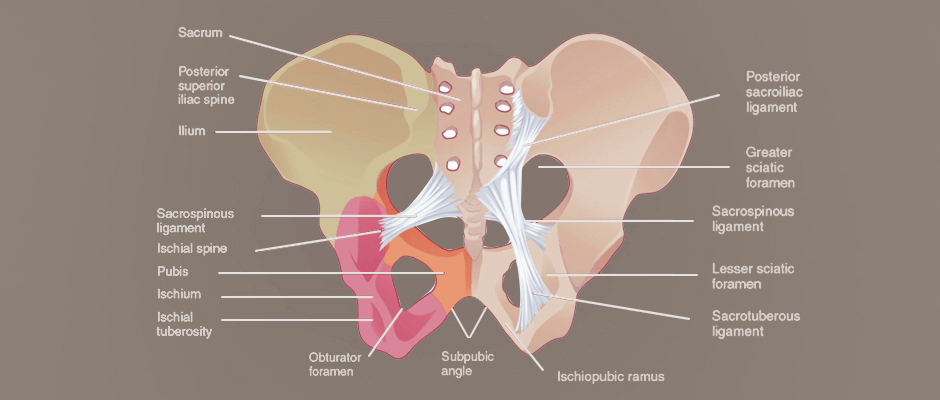 Your pelvic girdle is formed by the bones of your pelvis, the ilium, ischium, and pubis. Together, they create a bowl-like enclosure to house your reproductive organs. The pelvic bones are connected by two sacroiliac joints in the back and the pubic symphysis joint in the front. The joints are supported and held in place by strong ligaments.
During pregnancy, your body releases a hormone called relaxin. As its name implies, relaxin causes the ligaments to become looser and more relaxed, allowing for the pelvic girdle to widen as the baby grows, and to open up as the child travels through the birth canal.
While relaxed ligaments are essential for a successful pregnancy and delivery, they also make the pelvic joints less stable. In some women, instability in the sacroiliac joints and the pubic symphysis causes excess strain on the joints that manifests as pain.

PPGP is often described as stabbing, dull, shooting, or burning. Pain may be felt close to the sacroiliac joints and extend to the gluteal area, or it may occur in the front of the pelvis near the symphysis pubis. PPGP sometimes radiates to the groin, perineum or hamstrings. Because of their location in the lumbopelvic region, pain in the sacroiliac joints can mimic symptoms of sciatica.
Symptoms of PPGP include:
Difficulty walking for long distance

Difficulty climbing stairs

Pain when shifting body weight to one leg

Difficulty rolling over in bed or getting in and out of the bathtub.

Clicking or grinding sounds or sensations in the pelvis

Reduced and painful lateral range of motion at the hip

Pain in a side-lying position

Pain and difficulty during sexual intercourse
Pelvic girdle pain can lead to muscle pain in the inner thighs and buttocks as those muscles are overused to maintain stability.