Quality of Life After an ACL Tear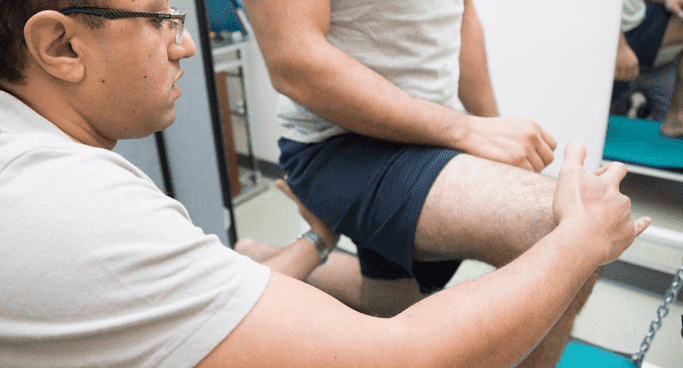 Healthy knees are foundational to all forms of human movement, and damage to the anterior cruciate ligament, or ACL, can be debilitating. Ligaments work together with muscles and tendons to hold your knee joint in place while standing and moving. Because so many structures come together at the knee, it is a complex joint that is subjected to huge amounts of force.
ACL tears are the most common knee injury associated with athletics and physical activity. They often occur during landing, deceleration, twisting, cutting and changing direction on the playing field or during exercise. Ligaments have no circulatory system, and therefore cannot repair themselves. Depending on the severity of the tear, treatment ranges from physical therapy treatment without surgery to full reconstructive surgery requiring post surgical physical therapy. Whether reconstructive surgery is opted for or not, a torn ACL often leads to knee joint instability that interferes with performance upon return to play, and ongoing impaired knee function throughout the course of life.
How ACL Tears Affect Quality of Life
Any type of injury can have a negative impact that interferes with movement and performance. That effect is amplified for athletes and physically active populations when they are no longer able to participate in their sport, event or activity. In a 2015 study published in "The British Journal of Sports Medicine," Filbay et al. wanted to see whether and to what degree ACL tears impacted the quality of life (QOL) of those injured, both in the short term, and over time. They also wanted to know if those who were ACL deficient (receiving ACL tear treatment without surgery) differed in QOL scores from those who had ACL reconstructive surgery.
The research team performed a meta-analysis of studies that reported on QOL of 473 patients who were ACL deficient, five years or longer post-injury. The Knee injury and Osteoarthritis Outcome Score QOL subscale (KOOS-QOL) was used as a survey instrument to assess quality of life. Researchers compared QOL scores of patients who received treatment for ACL tear recovery without surgery, to those who had reconstructive knee surgery following an ACL rupture.
The study produced the following findings:
● Knee-related QOL was impaired five to 25 years after rupture, in both ACL-deficient and ACL-reconstructed subjects.
● Reported outcomes of QOL were similar in both the ACL-deficient and ACL-reconstructed groups.
● Long term knee-related QOL impairments persisted after an ACL rupture, whether subjects had reconstructive surgery, or whether they received ACL tear treatment without surgery.
● New strategies are called for in treating ACL tears with long term QOL in mind.
Implications for Treatment
The study's authors noted that, in many cases, "Rehabilitation alone is an effective alternative to reconstruction for some patients, warranting the investigation of QOL in ACL-deficient individuals." (Filbay et al., 2015) When factoring in the risks inherent in surgery, individuals suffering an ACL tear should give careful consideration to non-surgical alternatives for ACL tear recovery without surgery.
The authors made the following recommendations for treatment:
● Clinicians should educate patients with ACL ruptures about possible long-term QOL outcomes, and should dispel patient beliefs that surgery is a superior treatment that will prevent osteoarthritis later on.
● When discussing management options with patients, clinicians should inform them of similarities in long-term QOL between reconstructed and physical therapy-only patients.
Practitioners should bear in mind the long-term QOL of patients with an ACL tear, and devise treatment protocols that address both short term and long term QOL.