Sciatic nerve pain can range from mild to debilitating, and its severity can fluctuate throughout the day, often becoming worse at night. Getting to sleep and staying asleep with sciatica can be a challenge, but there are several things you can do to set yourself up for sciatic nerve pain relief at night. Try these seven strategies, and learn more about new sciatica treatment technologies that eliminate sciatica for good.
People often report that their sciatica is worse at night. One reason your pain may seem worse is that you are not distracted by other things, and your brain is free to focus on finding sciatic nerve pain relief at night. In addition, changing your position from standing or sitting to lying down could potentially increase the pressure on your sciatic nerve, intensifying sensations of pain. In either case, it can be difficult to figure out how to sleep with sciatic nerve pain.
Try implementing these seven strategies to get sciatic nerve pain relief at night, so you can get a good night's sleep:
1. Take a hot bath or shower before bed to relax your muscles.
Warm water helps to relieve muscle tension in much the same way as warming up for a workout promotes muscle elasticity. When your muscles are tight and tense, they can exert pressure on your sciatic nerve, increasing pain. Heat from a bath or shower can help muscles relax.
2. Do gentle stretches to relieve tension and realign your spine.
Sciatica often originates at the nerve root, where the branches of the sciatic nerve exit the lumbar spine. Stretches like the cat/cow or child's pose can help to separate your lumbar vertebra, giving your sciatic nerve roots more space and reducing painful compression.
3. Try nerve flossing exercises to release an entrapped sciatic nerve.
Your sciatic nerve is as wide as an adult thumb in some places, and it needs to be able to glide freely between the bones, muscles and connective tissues that it encounters along its path. Nerve flossing exercises help to release an entrapped sciatic nerve and restore smooth gliding.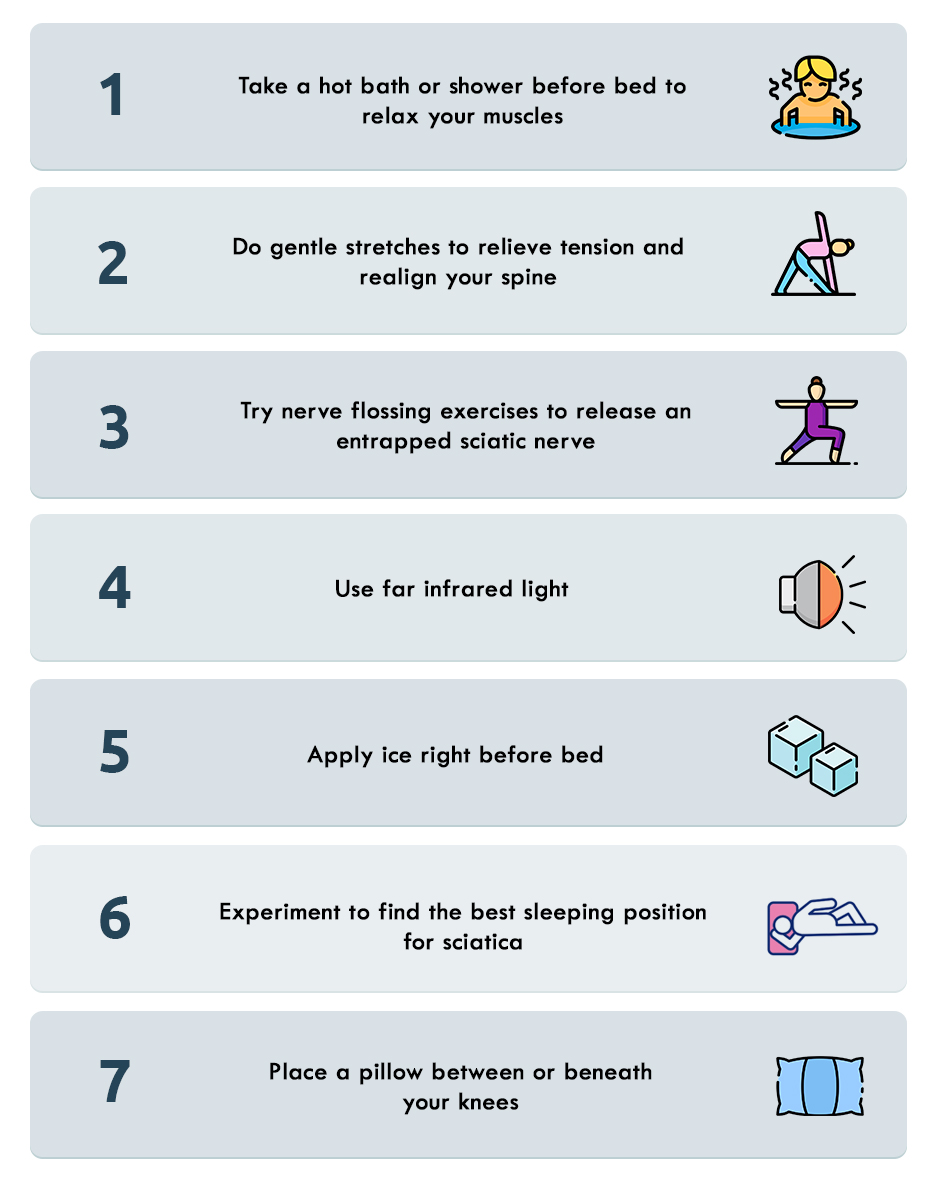 4. Use far infrared light.
Infrared light helps to relax muscles and connective tissues, and reduces inflammation. Whether you bask in an infrared sauna, relax in a sauna blanket, or use an infrared light therapy device, infrared therapy can help relieve pain so you can sleep.
5. Apply ice right before bed.
Sciatica is often caused by a bulging disc in the lumbar spine. Applying ice to the inflamed area can help shrink the disc, relieving pressure on your sciatic nerve. Try semi-reclining with a bag of frozen peas wrapped in a towel across your low back, for 15-20 minutes at a time.
6. Experiment to find the best sleeping position for sciatica.
If you are a back sleeper, you may find sciatic nerve pain relief at night by sleeping on your side, or vice-versa. It is generally agreed that sleeping on your stomach is not the best sleeping position for sciatica.
7. Place a pillow between or beneath your knees.
Sleeping on your back with slightly bent knees, or on your side with a pillow separating your knees, helps to realign your pelvis and low back, relieving pressure on your sciatic nerve.
Today, chiropractors and physical therapists have multiple high-tech tools at their disposal to help relieve sciatic nerve pain. However, most clinics do not invest in new technologies. The clinic at NYDNRehab features some of the latest technologies for treating sciatica and restoring pain-free function. Our technologies are rarely found in run-of-the-mill physical therapy clinics.
Before we begin treatment, we use high resolution diagnostic ultrasound to visualize the sciatic nerve along its entire path, to accurately identify the underlying source of pain. Once we pinpoint the problem, we devise a treatment plan the may include:
Extracorporeal shockwave therapy (ESWT)

Ultrasound guided dry needling

Electromagnetic transduction therapy (EMTT)

High energy inductive therapy (HEIT)

Physical therapy for sciatica

Chiropractic care
Read more about the broad range of technologies we use at NYDNRehab for sciatica treatment, and contact us today to get fast relief for your sciatic nerve pain so you can get a good night's sleep again.