Sciatica versus Piriformis Syndrome: What is the Difference?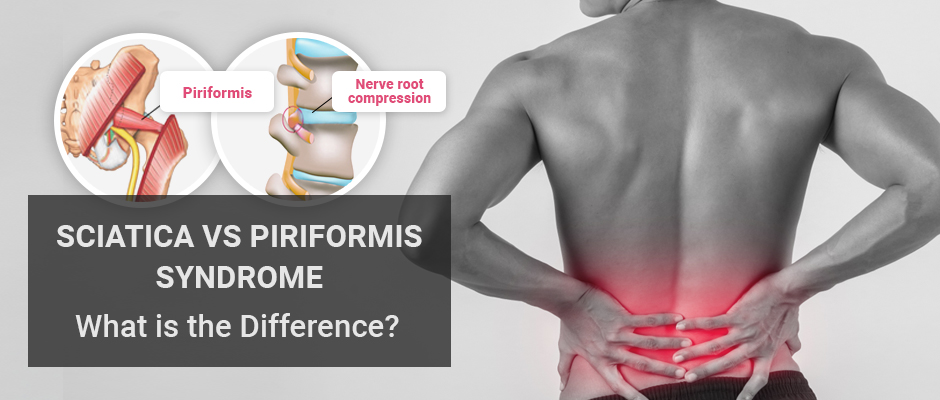 Pain felt on one side of the low back and buttocks is usually caused by the sciatic nerve, the longest and largest nerve in your body. But because of the nerve's long pathway from the lower spine to the legs and feet, many structures can contribute to sciatic nerve pain.
Sciatica normally occurs when a herniated disc places pressure on the sciatic nerve, but sometimes the nerve can become entrapped by a small muscle called the piriformis. A chiropractor can help you distinguish between piriformis syndrome vs a herniated disc and prescribe the most appropriate treatment.
Symptoms of Sciatic Nerve Pain
Pain in the lower back and buttocks is often accompanied by a burning or tingling sensation that may travel down the back of your leg. While those symptoms are frequently diagnosed as sciatica, misdiagnosis can lead to the wrong treatment that prolongs your pain without resolving it.

Piriformis syndrome and sciatica often exhibit the same symptoms, including:
Discomfort when sitting

Radiating leg pain

Burning pain at the back of the legs and/or buttocks

Tightness in the lower back and buttocks

Pain during hip and knee movement
Knowing which condition is the root cause of your pain and discomfort is key to successful treatment. A wrong diagnosis can delay recovery, costing you extra time and money, and unnecessarily prolonging your pain.
Piriformis syndrome vs Sciatica
The main difference between sciatica versus piriformis syndrome is the point at which the sciatic nerve becomes compressed and irritated.
Sciatica often arises from a herniated disc or from degeneration of the lumbar spine that places pressure on the sciatic nerve roots that descend from the lumbar vertebrae. Because the sciatic nerve is the longest nerve in your body, traveling from the lumbar spine, down your legs and all the way to your feet, compression at the nerve root can cause pain anywhere along its path.
Piroformis is also caused by compression of the sciatic nerve, but it occurs at a location farther along its path. With piriformis syndrome, pressure is exerted on the nerve when the piriformis muscle, a small muscle located deep in the buttock, becomes swollen or tight, entrapping the nerve along its pathway.

In some cases, a fibrous band forms within the piriformis, trapping the sciatic nerve and preventing it from gliding freely during normal hip and knee movement. Entrapment can cause painful stretching of the nerve. In physically active people, piriformis syndrome is often caused by overuse during sports or exercise.
Diagnosis to Determine if Your Pain Stems from Sciatica or Piriformis Syndrome
Accurate diagnosis is essential to getting the correct treatment to resolve your sciatic nerve pain. But without dynamic imaging, it can be difficult for your doctor to determine if your pain is caused by sciatica or piriformis syndrome.
At NYDNRehab, we use high resolution diagnostic ultrasonography to view the sciatic nerve in real time, with the patient in motion, something that cannot be done with Xray or MRI. By examining the sciatic nerve in motion, we can determine whether it is gliding freely as it passes behind the piriformis muscle. We can also visualize the discs in the low back to look for evidence of disc herniation or vertebral degradation.
Once we have an accurate diagnosis, we can move ahead with a custom designed treatment protocol, personalized for the individual patient.
Treating Piriformis Syndrome vs Sciatica
Sciatica treatment at NYDNRehab combines chiropractic care and physical therapy, along with other therapeutic techniques, including:
Ultrasound guided dry needling

Ultrasound guided steroid injections

Ultrasound guided neuromodulation

The flexion distraction method (for disc-related sciatica)
YOU DON'T HAVE TO LIVE With Sciatica
OUR THERAPISTS HAVE HELPED HUNDREDS LIKE YOU
Request an appointment »

Our location: 11 West 25th Street 5th floor, New York, NY 10010
Sciatica treatments often depend on the degree and source of damage. Pain management coupled with physical therapy and chiropractic care is often enough to resolve sciatica and avoid surgery.
Piriformis Syndrome is often easier to treat than sciatica. Physical therapy and chiropractic care can help manage symptoms, and nerve flossing exercises can help release an entrapped sciatic nerve. Certain stretches may help to relax the piriformis muscle, and ultrasound guided dry needling may help to target trigger points in the piriformis region.
Treatment for Sciatica or Piriformis Syndrome in NYC
Regardless of whether your low back and buttock pain is caused by sciatica or piriformis syndrome, you want quick and permanent relief from pain and discomfort. The back pain specialists at NYDNRehab have the tools and expertise to accurately diagnose your condition and provide the best treatment in NYC.
Our clinical director, Dr. Kalika, is a world renowned chiropractor who has published peer reviewed research on diagnostic ultrasonography and ultrasound guided needling procedures. At NYDNRehab, we go beyond managing your symptoms to eliminating them at the source. Contact us today, and get rid of your sciatic nerve pain so you can get back to living your best life!