Tearing of the Anterior Cruciate Ligament (ACL)
Tearing of the anterior cruciate ligament (ALC) is the most common athletic injury in field sports like soccer, rugby and football, as well as in basketball and a number of other sports that require rapid deceleration and sudden directional changes. Nearly 100,000 Americans suffer an ACL injury each year, the majority being female athletes.
When tearing is severe, surgical knee reconstruction is often sought by athletes to give up their sport.
Anatomy of the Knee
The femur of the thigh, and the tibia and fibula of the lower leg come together front and back.
Causes of Ligament Injury
Ligament injuries are not usually caused by a collision with another player, but are more often the result of to stabilize it, rupture or tearing occurs.
A ligament can be either partially or completely to repair. A partial tear may make the knee less stable, and a complete tear can severely limit movement, making surgical reconstruction an attractive, but often unnecessary, option for many athletes.
When a knee injury occurs on the playing field, it should not be ignored. Immediate diagnosis and treatment is crucial to treat a knee injury can be career-ending for any athlete.
Diagnosis
A knee injury should be treated immediately with rest, ice, compression and elevation, as with any soft tissue injury, to determine the location and severity of damage.
At NYDNRehab, we use real-time diagnostic ultrasound to view the images, meaning treatment can be undertaken immediately.
Treatment of ACL Injuries
In the acute (early) stages of injury, attention is focused on reducing pain and inflammation, and stabilizing the joint to protect it and prevent further damage. As inflammation and pain diminish, rehabilitation can begin in earnest.
One innovative treatment approach that has been highly successful in treating and repairing to play with confidence.
ACL Treatment at NYDNR
The sports medicine team at NYDNR takes an individualized approach to re-injury that can end an athlete's career.
We use the latest technology and most innovative therapies to help our athletes heal, physically and mentally. Some of our approaches at NYDNR include:
Real time ultrasonography to view the knee in motion.
Force plate motion-capture technology to assess and train knee biomechanics.
ESWT (extracorporeal shock wave therapy) to stimulate accelerated healing,
C.A.R.E.N (computer assisted rehabilitation environment) to retrain the body's neuromuscular system with virtual reality feedback.
DNR (dynamic neuromuscular stabilization) tore efficient movement patterns.
Other innovative therapies designed tore joint integrity and improve performance.
Our goal at NYDNR is to play with confidence, strength and the capacity for optimal performance.
Unique ACL Physical Therapy Treatment Approaches at NYDNRehab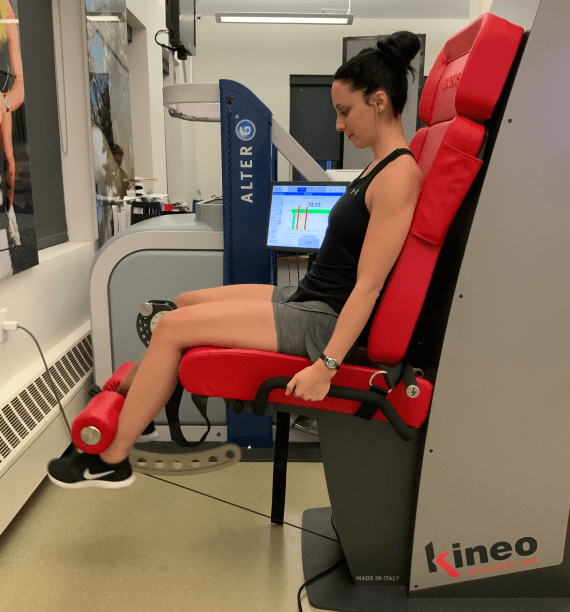 Kineo – the most versatile muscle testing using artificial intelegence