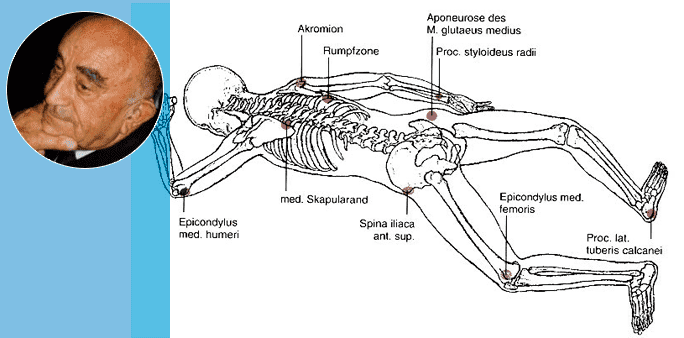 Vaclav Vojta, MD was a pediatric neurologist and college professor whose life's vocation is best remembered for his work with children inflicted with cerebral palsy, a brain disorder of unknown origins that affects muscle tor skills. Children with cerebral palsy often have difficulty speaking, standing and walking.
In the course of his work, Vojta discovered that children with CP responded to speak more clearly, and eventually stand and walk.
Vojta concluded that there existed some sort of functional blockade that was keeping these children from achieving developmental milestones of speech and movement.
Moreover, Vojta determined that specific movement patterns were present within the nervous system from birth in all humans, and could be activated through locomotion reflex stimulation. Human developmental motor skills include grasping, rolling, crawling, standing and walking.
How Vojta Therapy Works
Vojta therapy is administered with the patient in a prone, supine or side-lying position. When the therapist applies directed pressure to specific zones of the body, every patient, regardless of age, involuntarily responds reflexively in the same way. The technique elicits two complexes of movement patterns:
Reflex Creeping: Elicited in a prone body position, this movement pattern mimics creeping, an early developmental milestone in infants.
Reflex Rolling: Begun in a supine or side-lying position, reflex stimulus elicits rolling to crawling on all-fours.
Vojta therapy is founded on the premise that the brain sto inherently programmed segmental movement patterns.
Dynamic Neuromuscular Stimulation
The underlying premises of  Vojta's methods have been adopted and adapted for work with elite athletes by Pavel Kolar, PT, who trained under Dr. Vojta at the Vojta Institute in Munich. Kolar began using Vojta's principles of reflex locomotion therapy to the development of Dynamic Neuromuscular Stimulation, or DNS.
Human posture, movement and gait are controlled by the nervous system, and are fundamentally established during early childhood. Vojta therapy and DNS essentially resurrect neurodevelopmental aspects of motor system.
Always on the cutting edge of treatment, the sports medicine team at NYDNRehab utilizes the principles of Vojta and DNS today for a consultation, and discover why the professionals at NYDNRehab are the very best sports medicine team in NYC.