Dry Needling and Relief for Plantar Fasciitis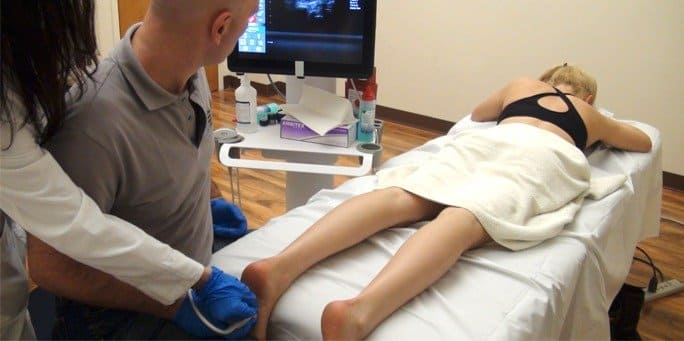 For those who suffer from plantar fasciitis, the struggle with heel pain can be debilitating. Plantar fasciitis is a condition that revolves around the plantar fascia. This is the ligament, or tissue band, that provides a support system for your arch. The plantar fascia forms a connection between the toes and the heel bone. If you strain this important ligament, the end result can be inflammation and swelling. The plantar fascia can become weak as well. Heel pain becomes your constant companion anytime that you place pressure on your foot. Walking and running can become excruciating, or simply being on your feet. Typical remedies for plantar fasciitis include anti-inflammatory medication, cold compresses, rest, and exercises. However, dry needling offers you another solution that targets trigger points in order to bring you relief for your heel pain.
Understanding Dry Needling
Dry needling is a popular form of treatment that is in a physical therapist's repertoire of techniques. It involves the use of a dry needle that is administered to trigger points in the foot. A dry needle does not have any type medication in it and does not involve an injection in the foot. It targets the underlying muscles in the foot to get to the root of your pain. Dry needling is often referred to as intramuscular manual therapy or trigger point therapy. It should not be confused with acupuncture, an ancient form of medicine passed down by the Chinese that involves the insertion of needles in key points to redirect channels of energy throughout your body. Dry needling is effective in treating plantar fasciitis when your physical therapist identifies specific trigger points in your heel. These trigger points are specific muscle bands that are pulled taut. When they are strained, swollen, or inflamed, they become painful. During a dry needling treatment, an extremely fine needle is inserted into targeted bands of muscle in your foot, stimulating these areas deep within.
How Can Dry Needling Help You with Heel Pain?
Dry needling can be extremely effective when it is used as one component in a comprehensive approach to addressing your pain. When a needle is carefully inserted into your foot to the affected bands of muscle, it can actually cause the muscle itself to relax. It can also stimulate your circulation and the production of collagen in an area where tiny tears have occurred in the underlying muscle of your foot. Plantar fasciitis is typically a result of the way that you walk or because you have placed too much strain on this part of your foot. If you do not address the issue and find a solution, you may never have true healing. In order to restore the muscles of your foot and relief pain, your physical therapist can incorporate trigger point therapy into your treatment regimen.
Connecting Treatment with the Way that the Foot Moves
Your physical therapist has a keen understanding of your anatomy and the relationship between your bones, muscles, ligaments as related to how they affect your patterns of movement. Even though you suffer from pain in your heel, you are still able to remain ambulatory. Trigger point therapy is intended to promote healing and improve your quality of life, allowing you to free yourself from your pain. In order to incorporate trigger point therapy into your treatment therapy, your physical therapist has to understand the chain reaction that occurs as the muscles in your foot go to work. If one area revolving around the heel is weakened or has undue stress, it can have serious ramifications in the way that you walk. As you experience pain, you will tend to favor that heel and compensate by adjusting your gait in an effort to avoid more pain. This will only complicate matters and cause more discomfort. By placing yourself in the competent hands of your physical therapist, you will finally be able to head in the right direction with trigger point therapy.
How Focusing on a Trigger Point Can Help You
Think of a trigger point as the main area of irritation in your heel. This is the point where you have muscle tears, inflammation, and tenderness. Every time that you walk, the nerve endings are screaming as you place pressure on this sensitive area. It's at a point deep within your foot where your physical therapist is unable to manually apply pressure to provide you with relief. However, a dry needle can make it possible to reach your trigger point and calm the nerve. In the end, the stimulation can be eliminated as the muscles in your heel begin to heal.
Dry Needling for Plantar Fasciitis
While your physical therapist may incorporate trigger point therapy in your treatment for plantar fasciitis, you can also expect other treatment methods. Specific exercises can help you to relieve strain and teach you how to move your foot properly, avoiding further injury to your heel muscles. Your physical therapist can recommend practices you can follow at home to optimize the results of trigger point therapy. Using cold compresses and taking anti-inflammatory medications can help to reduce your pain, as well as using shoes with proper support. You can also find relief from plantar fasciitis if you put on supportive shoes as soon as you get out of bed each morning. Otherwise, your foot will not have enough support and you could aggravate your condition.