Your knees, like your elbows, are hinge joints, designed to bend and straighten (flex and extend) as you walk, run, jump or perform any physical activities that involve your lower extremities. If your knee hurts when you bend it and the pain eases up when you straighten it, there is definitely something wrong – knee pain is never normal!
Because of your knee joint's complexity, knee pain may arise from many causes. Getting to the source of bent knee pain requires extensive evaluation and testing, but most bent knee pain can be resolved with physical therapy, once its cause is identified.
Knee pain can be subcategorized as anterior (frontal) knee pain, posterior (back) knee pain and lateral (side) knee pain. The location of your pain helps your physical therapist narrow down its potential causes.
Pain at the front of your knee or right behind your kneecap is often diagnosed as patellofemoral pain syndrome (PFPS). Its name is derived from the junction of the patella, or kneecap, and the femur, the large bone of your upper thigh. Frontal knee pain is the most common type of knee pain.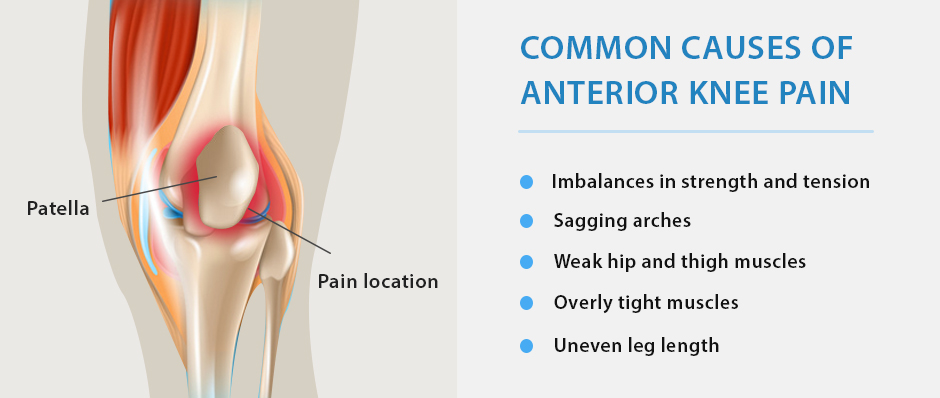 Common causes of anterior knee pain include:
Imbalances in strength and tension in the muscles that surround and act at the knee, causing the patella to deviate from its natural groove.

Sagging arches that force the tibia (shin bone) to rotate when walking or running, affecting the patellofemoral joint and pulling the kneecap off-track.

Weak hip and thigh muscles that allow the femur to over-rotate, impacting the patellofemoral joint.

Overly tight muscles that surround and support the knee joint, impeding its range of motion.

Uneven leg length that causes you to compensate while physically active, interfering with good biomechanics.
Pain behind your knee often involves your hamstring or calf muscles. Since hamstring contraction is what causes your knee to bend, it makes sense that injury to the hamstring muscles or tendons can be the underlying cause of your bent knee pain.
Common causes pain at the back of your knee include:
Injuries to the outer sides of the leg or knee can often be more painful when you bend your knee.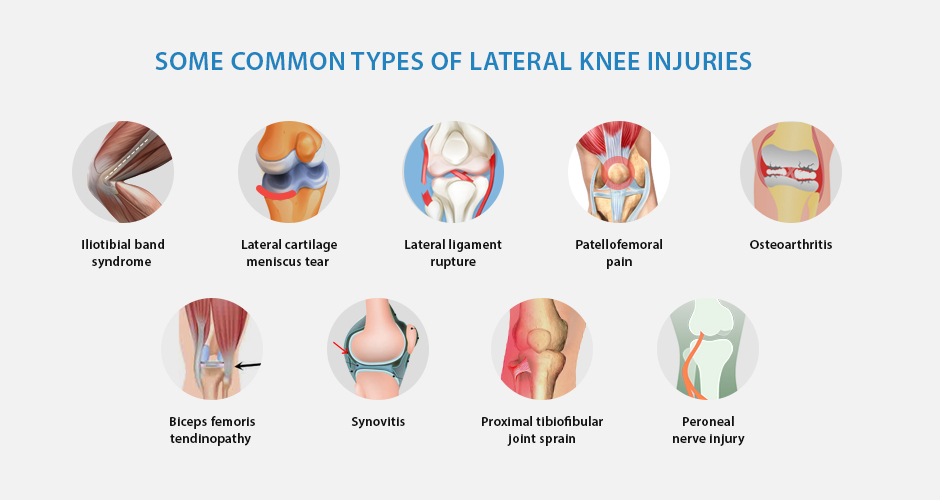 Some common types of lateral knee injuries include:
Iliotibial band syndrome

Lateral cartilage meniscus tear

Lateral ligament rupture

Patellofemoral pain

Osteoarthritis

Biceps femoris tendinopathy

Synovitis (inflammation of the synovial membrane)

Proximal tibiofibular joint sprain

Peroneal nerve injury
With so many things that can cause your knee to hurt when you bend it, it is not wise to attempt to self-diagnose. A sports medicine physical therapist can identify the exact cause of your bent knee pain and design a rehabilitation program to correct and eliminate it.

The first step in knee pain diagnosis is to conduct a clinical exam, to gather a thorough health history and rule out problems or abnormalities that have similar symptoms.
At NYDNRehab, we use the highest resolution diagnostic ultrasonography to view the structures surrounding your knee in real time. Ultrasound imaging lets us examine the knee joint in motion, to get a clearer picture of which structures may be contributing to knee pain.
We also do a 3D gait analysis, to measure the parameters of gait mechanics such as weight distribution, joint angles, ground reaction forces, biomechanics, muscle firing patterns and more. Faulty gait mechanics are often at the core of knee pain.
Depending on our initial findings, we may run a further battery of tests to look for muscle imbalances, compensation patterns, strength and range of motion deficits and other factors that can impact knee function.
We use data from our findings to establish a baseline and design a personalized treatment plan, based on your unique diagnostic results.
At NYDNRehab, we use state-of-the-art technology to rehabilitate the knee joint. Our high-tech treatment toolbox for bent knee pain includes:

AlterG anti-gravity treadmill for gradual loading

DD Robotech AI technology for feedback retraining

MadUp blood flow restriction training for safe muscle strengthening

C.A.R.E.N computer assisted rehab environment for analysis and retraining

ESWT extracorporeal shockwave therapy to promote tendon neogenesis
The sports medicine team at NYDNRehab does not stop pain management, tissue healing and strengthening. Old injuries, compensation patterns and biomechanical deficits can rewire muscle recruitment patterns, interfering with optimal motor coordination. We believe that rehabilitation is not complete until the neuromuscular messaging between the brain and body has been fully restored.
If you have knee pain when bending your knee, you should not ignore it. Bent knee pain can be a sign of serious issues that can worsen if left untreated. To get personalized treatment and eliminate your knee pain for good, contact NYDNRehab today, and begin the road to recovery so you can get back to the activities you love, pain-free.