AlterG Anti-Gravity Treadmill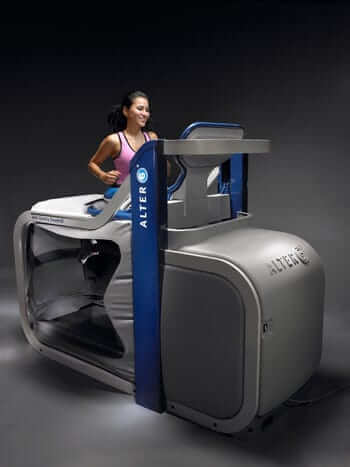 Get back into the game faster than ever before by allowing you to train harder, sooner.
We are committed to offering the most innovative techniques in therapy that will achieve optimal results for our patients as they embark on the challenging road to recovery. When it comes to meeting the needs of our patients, we are committed to finding the best path of treatment and rehabilitation. Whether they have an orthopedic condition, have experienced neuromuscular damage, have a physical disability, or have suffered a brain injury, we use a vast repertoire of modern technology in combination with our knowledgeable staff in order to find answers. We are proud to offer one of our most exciting advances in modern technology, the AlterG anti-gravity treadmill.
In addition to effective evaluation and diagnosis, at New York Dynamic Neuromuscular Rehabilitation, it is our intention to assist our patients in the rehabilitation process and have the highest degree of functioning. The AlterG Treadmill is only one of a host of innovative devices and treatment options at our disposal. Like many of our therapeutic methods, the main goal is to improve mobility, assist patients in becoming more active, and avoiding injury in the process.
In many cases, patients come to New York Dynamic Neuromuscular Rehabilitation because they are experiencing physical limitations for a variety of reasons, whether there is a muscular, neurological, or orthopedic issue at the root of the problem. Through the use of proper diagnosis and treatment, patients can experience improvement in their situation.
At New York Dynamic Neuromuscular Rehabilitation, our staff is well-versed in a broad range of techniques that are designed to assist our patients in avoiding further injury, retraining their bodies to resume former activities, regain as much mobility as possible and for others improve their performance. When at all possible, we use methods that will cause the least amount of discomfort while still achieving positive steps forward. The AlterG is effective in that it allows a patient to move in such a way as not to be restricted or impacted by the damaging forces of gravity.
When patients who have undergone surgery are suffering from a host of physical disabilities, or have experienced the trauma involved in a variety of injuries, including those involving the nervous system, one of the greatest challenges they face is the ability to move freely. The human body is an intricate system of bone, muscles, tendons, and ligaments. Any dysfunction in the neuromuscular system can hinder a person's daily life, causing a nuisance at the least, keeping a individual prisoner to his or her own body at the worst. By retraining the brain, pathways in the nervous system can be restored. Through range of motion exercises, patients can begin to experience movement once again. By using the Alter G, in combination with other techniques and diagnostic tools, it is possible to provide patients with a better quality of life.
The AlterG anti-gravity treadmill was designed and used by NASA to train astronauts in the reduced gravity environment. Since then AlterG technology has been adapted for treatment and prevention of sports injuries. It has also been used by specialized rehabilitation centers dealing with post-stroke rehabilitation and rehabilitation from brain injuries.
Similar in basic design to a standard treadmill, AlterG is enclosed by a surrounding airtight skirt. The operator allows air pressure to inflate the skirt into a 'bubble'. Air pressure inside the bubble can be calibrated to varying degrees in order to counter the weight of the runner. The effect is similar to running in lower gravity and is considered extremely beneficial for professional training, medical rehabilitation, and many other applications.
AlterG treadmill does not hamper mobility or create any discomfort. Patients are issued especially designed shorts that they wear over their clothing. The shorts are zipped into the ring of the skirt, creating an airtight seal around the waist. With the skirt inflated, the user maintains full ability to move, walk and run in a normal fashion within the bubble. A digital panel attached to an exterior frame serves as the control center.
The main purpose of the anti-gravity treadmill is professional athletic training. Many teams including the Los Angeles Lakers and athletes from the 2008 Olympics in Beijing, including U.S. long distance runner Dathan Ritzenhein, have reported the anti-gravity treadmill a useful training tool.
AlterG treadmill allows athletes to run longer distances at faster speeds than possible on the standard exercise equipment. By lowering body weight and pushing the cardiovascular system, runners can increase their stamina while drastically reducing body impact, allowing for longer training sessions.
AlterG is widely used in Orthopedic Functional rehabilitation, rehabilitation of spinal injury and back pain, sports injury rehabilitation and prevention, post-traumatic rehabilitation, rehabilitation of repetitive use disorders as well as neurological rehabilitation.
The anti-gravity treadmill can reduced body weight to just 20% in one-percent increments. The effect of increased air pressure on the lower body is almost imperceptible. To decrease body weight by 80%, all that is required is to boost air pressure inside the skirt from 15 pounds per square inch (psi) to just 16.5 psi. To the subject it feels similar to standing waist-high in water.
Therapeutically, the anti-gravity treadmill can get patients mobile must faster, building muscle tone earlier in the recuperative process by taking the patient's weight off of injured or newly repaired joints, knees or hips. Applications for the anti-gravity treadmill also include those with muscle or leg injuries, and recuperation for the elderly.
Weight loss is another application for the anti-gravity treadmill. By making exercise easier, particularly for the beginners, a patient can build up cardiovascular system, increase muscle tone and burn fat gradually and safely without adding stress to already weakened areas such as feet, ankles and knees.
AlterG in Orthopedic Functional Rehabilitation
Calibrates Tolerated Weight Bearing from 20% of body weight to 100% in 1% increments, so patients can specify exactly where exercise becomes pain free and progress can be easily tracked and charted.
Provides precise weight-bearing levels following injury or surgery to restore natural gait, range of motion
Enables cardio training in people with herniated disc and sciaticas
Facilitates rehabilitation of patients with hip related conditions
Allows strengthening of knees and hips affected by degenerative arthritis
Improves balance and confidence in Prosthetic training
AlterG in Neurorehabilitation Program
Facilitates neuromuscular and proprioceptive re-training
Improves neuromuscular control and activity and promotes brain plasticity
Enhances balance and confidence while emphasizing improved gait and stride length
Provides safe environment for multi-task training and learning
Enables higher work load and training intensity for cardiovascular health and gait
AlterG in Athletic Rehab