Orthopedic
From sports and shoulder injuries to hip and groin pain, Dynamic Neuromuscular Rehabilitation has quickly become the best orthopedic in NYC go-to facility for orthopedic conditions and sports medicine treatment. Our specialists practice proven definitive methods to combat a variety of acute and chronic orthopedic conditions, many of which are the result of repetitive strain and/or sports traumas. At the heart of our efforts is the DNS method – Dynamic Neuromuscular Stabilization – a breakthrough scientific approach that has become the preferred pathway for many professional athletes with regard to their injuries and performance enhancement goals.
Diagnostic Abilities Far Beyond Typical Rehab Facilities
What makes Dynamic Neuromuscular Rehabilitation different in the area of orthopedic condition treatment? Our head doctor, Lev Kalika, boasts a multifaceted education and unwavering passion for innovation that has dynamically catapulted this clinic into a new realm of therapeutic mastery. We remain proud to be the first outpatient gait and motion analysis lab in the New York City area, and continue to market ourselves as a one-stop, non-invasive sports injury and orthopedic rehabilitation facility.
Dr. Kalika's proficiency in diagnostic ultrasound imaging, in addition to our RUSI (Rehabilitative Ultrasound Imaging) applications and gait/motion analysis laboratory, fuse to make our services not only unique…but unprecedented. Our patients rest assured knowing they are receiving the very best treatment outcome assessment by way of highly advanced skill and monitoring technology. With a multi-specialty team of passionately dedicated and motivation-driven practitioners always there to implement the most comprehensive treatment program, Dynamic Neuromuscular Rehabilitation has become synonymous with "the best orthopedic in New York."
Muscular and skeletal-related issues we treat:
Our Functional Approach to Orthopedic Conditions
"Locomotor Dysfunction" refers to an abnormal condition of tissues contributing to the body's mobility, posture and balance and can include muscles, joints, discs and – most importantly – neural wiring in the central motor regulation centers of the central nervous system. Dynamic Neuromuscular Rehab's therapeutic program is based on evoking the ideal movement patterns through exercise, the goal being to activate these patterns automatically without conscious effort on the patient's behalf. Manual techniques used to treat locomotor function consist of joint and soft tissue manipulation, reflex stimulation and a myriad of neuromuscular techniques designed to release trigger points while strengthening and improving coordination by influencing the motor control of the central nervous system. Further, our exercise program encompasses stability and posture training, body awareness exercises, breathing retraining and neuromuscular exercises.
Our functional approach has resulted in not only alleviating orthopedic condition suffering but also prevents relapses and recurrences common with such afflictions as back pain – for patients that find themselves with increased and hectic work schedules or professional or recreational athletes, we transform stability training into functional training. This is a goal-oriented approach, involving various movements such as lunges, squats, pulling and twisting, all of which are performed in challenging positions and enhanced by different labile surfaces.
Discover for yourself why Dynamic Neuromuscular Rehabilitation is a highly respected orthopedic in Manhattan facility.
Reactive Neuromuscular Training on Kineo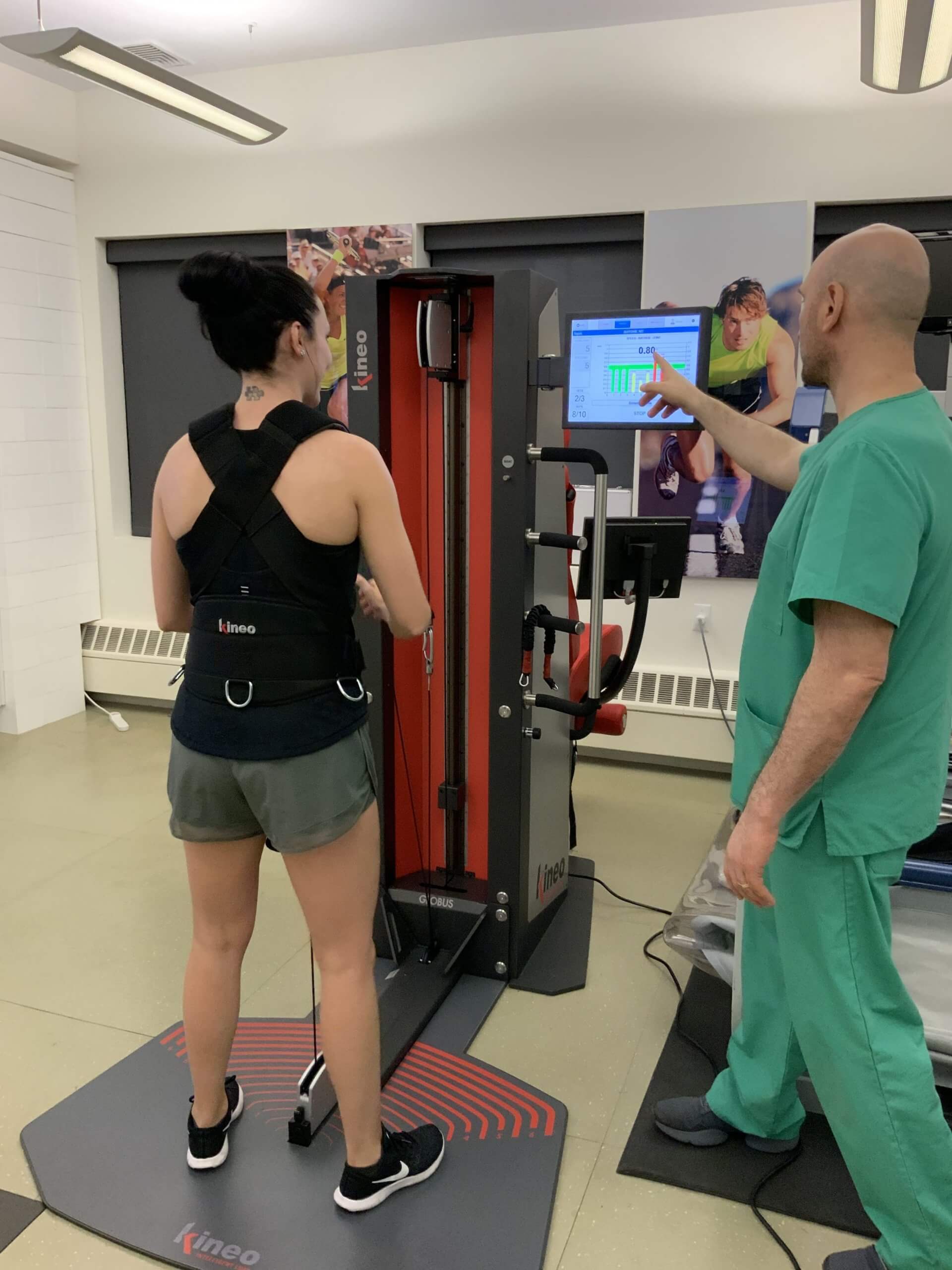 Kineo – the most versatile muscle testing using artificial intelegence